Media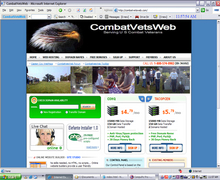 Visit my company, Combat Vets Web,for Web hosting and domain acquisition. CombatVetsWeb is a US based company headquartered in Gainesville, FL. Our company provides professional services in Web hosting, Domain registration, and quality customer support. Our target audience is U. S. Combat Veterans who want to establish and maintain a secure and functional Web presence. Five dollars [$5] a month buys 150G of Web space, 150G data transfer, FREE DOMAIN, 500 email acounts, Domain control panel, 30 day money back guarantee, no setup fee, and it's all almost instant!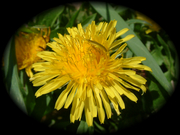 Download a STREAMING VIDEO (wmv 11.5 Mb) I made of Spring Flowers with the song "Somewhere Over The Rainbow, What A Wonderful World," sung by Israel Kamakawiwo'ole [RIP] as background music.
Download 1-52d Infantry Ops & Intel Logs for the period 31 Dec 68 to 9 Mar 69.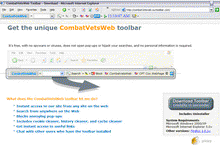 If you'd like to try our new TOOLBAR with easy searches of the Web, website, dictionary, encyclopedia, weather, news, images, driving directions, and an email notifier that checks to see if your POP3 email has messages, click the link below. The CombatVetsWeb toolbar features a radio with 20+ preinstalled stations (add your own); one-click private chat only for users who have the CombatVetsWeb toolbar; a text messenger for cell phones, and an in-browser email . The toolbar displays the time, as well. The link takes you to my download page where an image of the toolbar is displayed.




If you'd like to make a DONATION to support the maintenance of Captain Cox WebPage, click the button below. You can donate using a credit card or PayPal. If you use a credit card, after clicking the button, select the option, "Don't have a PayPal account." In all cases where it appears, select the radio button "Shipping not needed."