Recognized Archeological Sites in Ritchie by William A. Cox, Jr., Staff Historian
Ritchie County Public Library -- 1979-1980 [From The Ritchie Gazette, c.1979]
Seven prehistoric sites have been identified and recorded within Ritchie County by the Archeology Section of the West Virginia Geological Survey, in Morgantown. Yet these recorded sites reflect only a fraction of the legacy left here by primitive man. Artifact collections have been turned by the plow in every corner of Ritchie County, and dates ranging from 10,000 to 300 years ago have been assigned to them by the Archeology Section team.
It is a policy of the Archeology Section not to make public the exact locations of established archeological sites until they have been excavated. Such a policy aims at protecting the sites from possible vandalism by private persons who may want to add to their artifact collections. Since none of the sites in Ritchie County have been excavated, their precise locations cannot be given here, but they will be located generally.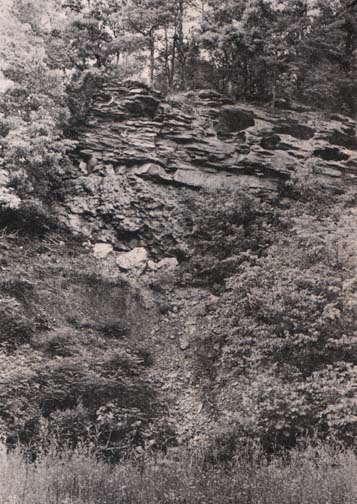 Old quarry along the Hughes River where Indians got flint for
spear and arrow points and other uses--photo by the author
The information derived from undisturbed sites is invaluable to archeologists as they search for an understanding of primitive man in West Virginia, yet public curiosity does not necessarily await the progress of science, especially when the unintending plow so often turns up boxfulls of ancient relics in Ritchie County. I have witnessed this myself. On the invitation of a local farm owner to search a freshly plowed field at the junction of the Cairo-Cisco Road and Route 47, my son, David, and I found three projectile points and a stone scraper within ten minutes. So there need be no intention to disturb an ancient Indian site in Ritchie County--we simply have work to do, and fields to plow. And in response to the violent gesture of the plow, the earth yields up its aged treasures willingly, as if to remind the plowman that she welcomed the Indian to this very spot many thousands of years before, that she has kept and preserved his works.
"Site 46-rt-1" in Ritchie County identifies the only notable deposit of flint, or chert, in the entire Ohio Valley region. This flint outcrop, commonly called the Hughes River Flint, is "twelve to fifteen feet thick, where best developed. . . The color varies from light, almost milky white, to buff, to grayish black." This flint quarry alone establishes Ritchie County as a probable location of heightened activity for primitive man.
The Indians traveled great distances to find usable flint for their stone projectile points and tools. No doubt the Indians who travelled the northwestern area of West Virginia, southeastern Ohio, and southwestern Pennsylvania were familiar with this deposit. Many of the arrowpoints and other flint tools found in this large area will probably be traced to the Hughes River flint.
Site 46-rt-2 is an Indian mound near Cisco. This mound was constructed by the Adena or Hopewell cultures, between 3000 and 1500 years ago. The mound was almost totally destroyed in the late 1920's, and the artifacts were removed together with the skeleton of an Indian priest which had rested there for at least 1500 years. The original mound was about fifteen feet high. Today, nothing remains of the structure above ground level, but the Archeology Section team believes that excavations of the site may uncover sub-surface tombs, and they have recorded that private collections of artifacts from this mound are located in Mace and Elizabeth, in Wirt County. Among the known artifacts in these collectinos are a four-inch slate pendant, and a stemmed arrowpoint of Adena and Hopewell culture origin.
Site 46-rt-3, the Ayers' site in Murphy District of Ritchie County, not far from Smithville, is another Indian mound. The Archeology Section team estimates that the mound is sxty feet in diameter. This mound is capped with rocks.
Site 46-rt-4 is located on a meander of Spruce Creek, near Hazelgreen. Found at the site were several projectile points, a bone awl, and a grit-tempered fragment of pottery. The site is a probable location of a prehistoric Indian campsite.
Sites 45-rt-5, 46-rt-6, and 46-rt-7 are also identified as probable prehistoric Indian campsites. These sites are located near the South Fork of Hughes River on Little Bear Run, on Indan Run, and near Harrisville.
The photo, from an article by the author, appeared in Wonderful West Virginia magazine in September, 1978.