MY ART
I started the painting featured below in 1987 when I was hospitalized at the VA Medical Center in Gainesville, FL for a PTSD "tune-up." I remember thinking in the art therapy class when I started the painting that I'd like to go back to West Virginia someday to retire. I'd been the County Historian at Ritchie County in 1978-79, appointed by the State library system. While I worked as Ritchie County Historian I applied for and received a grant from the National Endowment For The Humanities to write a history of the county, and in doing so, I fell in love with the region and it's people.

After I was awarded total and permanent disability by the VA in 1995 I realized my dream. My farm doesn't look like this, but it's not too far off. The picture is from my imagination, not memory--but sometimes dreams do come true! I finished the painting, finally, the year before I moved back to West Virginia--seven years after starting the painting. Update: I've recently sold the farm & moved back to FL: . I'm retired now.
---
For a movie (wmv 11.5 Mb) I made of CoxFarm Spring Flowers 2004, with the song "Somewhere Over The Rainbow, What A Wonderful World" sung by Israel Kamakawiwo'ole [RIP], as background music, click here.
---
The photo above is from the top of the driveway looking South
from CoxFarm toward the barn. Sure snowed a lot!
---
--Other Art--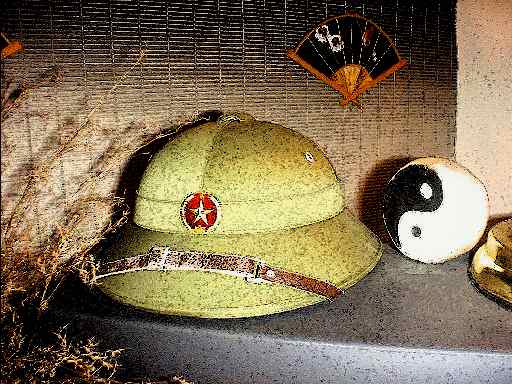 Image "NVAHelmentJohnGifford2WillCox" © 2000 by William Cox

NVA helmet sent me by John Gifford, a friend & teacher in Minneapolis, MN,
who served with the 101st ('66) & 82d ('68) Airborne Divisions in Vietnam,
from his trip back to Vietnam in Aug 2000. Thanks, John!
Image & photo © 2000 by William Cox.

---
CoxFarm Featured Photo--Sept 2000
All photos featured here are © 2000, 2001 by William Cox.
---
On the way to North Bend State Park,
Ritchie County, WV--Winter 1978.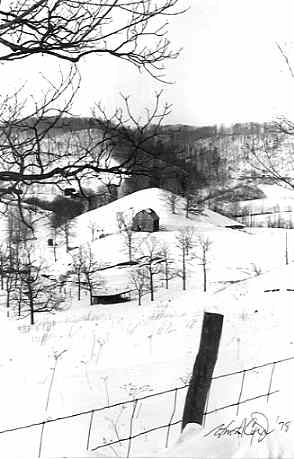 ---
The pic below is a special gift I received from a friend,
John Gifford of Minneapolis, MN, today [8-23-2000] in the mail.
It's a jar of dirt from the coastal town of Tam Ky, Vietnam, I Corps.
John recently made the trip back, and he's shared it with many others.
My outfit [1/52d Inf] protected Tam Ky during PostTet 69, at a very high cost to us
(and to the NVA) so this is ground we fought and died for. John fought as a
parachute infantryman with the 82d and 101st ABN Divisions in Vietnam.
Thank you very much, John! I'll treasure it always.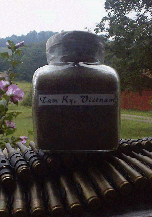 ---